Your news: Announcements from MSSU, PSU and more | Local News
[ad_1]

Senior design student receives 'Best in Show' during annual portfolio review
From Missouri Southern State University
Joplin, MO — Jada Samuel, a senior BFA design major, has been announced as the recipient of the "Best in Show" award during the recent "Swipe Right" 2022 Portfolio Review at Missouri Southern State University.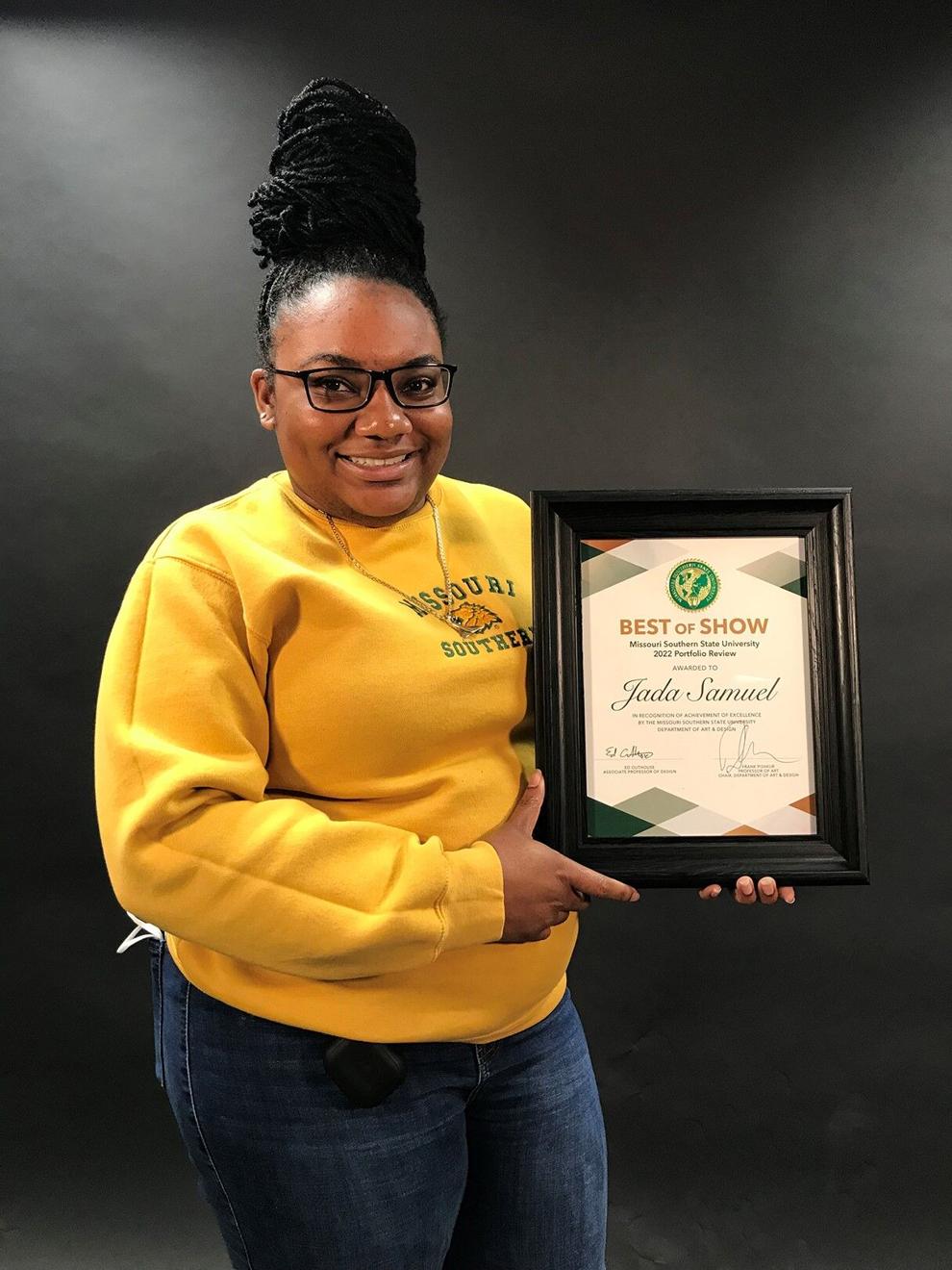 During the event held in late April, students from the Art & Design Department showcased their work for review by professionals and the public. It marked the first time the event had been held in person since 2019.
This year, 18 students presented their work for review by numerous local and regional art professionals.
"The Missouri Southern design faculty assessed each student portfolio for the quality of work, portfolio organization and the presentation of content," said Ed Outhouse, associate professor of design. "Successful designers are expected to create engaging designs and effectively communicate the concepts and aesthetic choices of their work."
Samuel, a student from the British Virgin Islands, included digital illustrations, web design, typography, page layout and symbol design in her portfolio.
"Her exemplary design work is a model for what we hope our students can achieve here at MSSU," said Outhouse.
—
Pre-med student accepted by KCU Partners Program
From Pittsburg State University
When Pittsburg State biology major Marissa Vail was a teen, a transformative moment put her on the path to a future career in medicine.
This spring, she got news that would propel her forward more quickly on that path: She's been accepted by the KCU Partners Program — a competitive early admission program for KCU Medical School that allows selected students at PSU to streamline their education.
Students apply to the program during their sophomore year at PSU and, if accepted, they begin medical school after completing their junior year at PSU — meaning their "senior year" will be spent as a first-year medical school student.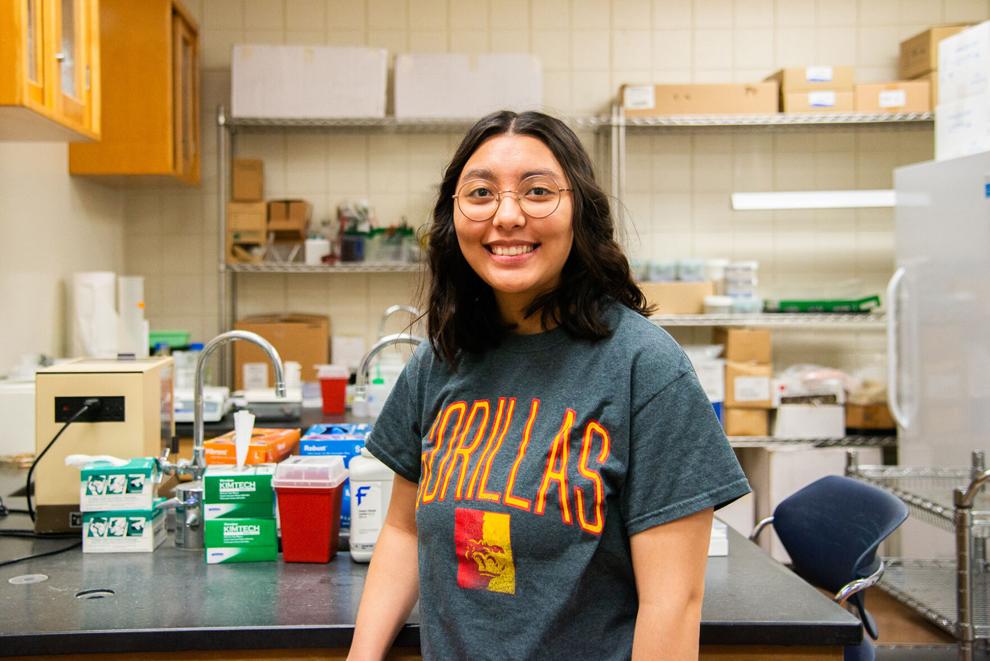 "Once I complete that first year at KCU, I would get credit for my senior year at Pitt State and earn my bachelor's degree," she said.
Vail, who is a graduate of Pittsburg High School, was inspired to become a doctor as a sophomore.
"My mom was in a car wreck, and after seeing the care she received, it inspired me to want to become a doctor," she said.
Faculty and alumni from the Biology Department have provided her the education, experiences, and encouragement to reach that goal.
"Alumni have allowed me to shadow them, and my professors have been fantastic," she said. "I'm really glad I chose Pitt State."
Professor Phil Harries said Vail is a perfect fit for the program; she is the first to have been accepted for it in about 10 years.
"She has shown that she is an incredibly strong student in her two years at PSU and has already amassed a wealth of healthcare experience through her work as an EMT and by pursuing shadowing experiences," he said. "We're very proud of her accomplishments and excited to see her moving toward her ultimate goal of becoming a physician."
—
Legislature addresses teacher pay and school transportation funding in budget
From the Missouri Department of Elementary and Secondary Education
The Missouri General Assembly passed the Department of Elementary and Secondary Education's (DESE's) $10 billion budget, which includes:
• Funds to increase teacher pay, including:
1. Fully funding Governor Parson's recommendation to increase the baseline teacher salary from $25,000 to $38,000 through a matching grant program.
2. The state will provide local school districts with funds to support 70 percent of the salary costs associated with the program; local school districts would provide the remaining 30 percent.
3. Just over $37 million to restart the Career Ladder program currently in state law, which allows teachers with at least five years of experience to earn extra money for participating in additional activities in the school setting.
• A one-time increase of $214 million to support transportation in public schools, fully funding the maximum 75 percent of reimbursable costs for the first time since 1991.
These funding increases are made possible by the state's strong budget position. DESE's budget bill now heads to Governor Parson's desk for signature.
"This is an exciting day for K-12 education across our state and we thank the General Assembly for further supporting public education in our state," said Commissioner of Education Margie Vandeven. "Additional transportation dollars from the state allows school leaders to shift local funds to other high-priority areas to further support students, teachers, and staff. When it comes to teacher pay, Governor Parson made it clear that his recommendation to increase the baseline teacher salary was only the first step in addressing this statewide issue, so we look forward to continuing this urgent conversation. The State Board of Education will convene their Blue Ribbon Commission next month to present long-term, sustainable solutions to address teacher recruitment and retention."
"It's great to see the legislature prioritizing funding to support schools and educators amid the current budget position," said State Board of Education President Charlie Shields. "Public education is one of the key pieces of our state's infrastructure. Providing schools with the funding they need to educate Missouri students and recruit and retain the best and brightest to the teaching profession is the way our state can ensure we are properly preparing the workforce of tomorrow."
—
Center for READing offers camp to help young readers
From Pittsburg State University
Children who are struggling to learn to read or who want to get a jump start learning to read can do so this summer at Secret Codes Camp. The deadline to register and receive materials on time is May 23.
Offered by the Center for Research, Evaluation, and Awareness of Dyslexia (Center for READing) at Pittsburg State University, the camp consists of 50-minute daily sessions Monday through Thursday, for eight weeks in June and July, totaling 32 sessions. Students may elect to attend camp in-person or online.
New to Secret Codes Camp this year is the inclusion of a pre- and post-assessment of students' reading skills.
"This will help us determine students' reading levels as they enter our program and document their progress at the end of camp," said Director of Operations Alex Fender.
Despite this new feature, the cost of Secret Codes Camp has not increased from last year at $450 per student.
About The Center for READing
The Center for READing is a resource for understanding reading disabilities such as dyslexia and attentional disabilities such as ADHD.
The organization provides science-based evaluations for individuals with reading and attentional difficulties, offers science-based intervention services to help them become competent readers, trains educators and school staff in the science of reading, engages in and publishes scientific research, and assists in advocacy efforts related to dyslexia and other reading disabilities.
In the United States, only about one third of students can read grade level material competently. In Kansas, 63 percent of fourth graders are below the proficient level in reading.
Dyslexia, a language-based specific learning disability, is characterized by difficulties with accurate and/or fluent word recognition, poor spelling, and poor decoding abilities. As the most prevalent specific learning disability in the nation, approximately 20 percent of the general population has dyslexia. Individuals with dyslexia and other reading difficulties are more likely to drop out of high school and experience a negative self-image.
Specific learning disabilities such as dyslexia are often associated with lower academic achievement, lower income, higher rates of suicidality, and higher rates of unemployment.
Learn more
Visit www.pittstate.edu/READing or contact the Center for READing at [email protected] or 620- 235-4593. The center is located in 209 Whitesitt Hall, Pittsburg State University, 1701 South Broadway, in Pittsburg, Kansas.
Connect on social media: @Center4READing.
Questions? Email [email protected]
—
Easterseals Midwest emphasizes connection during Mental Health Awareness Month
From Easterseals Midwest
May marks the beginning of Mental Health Awareness month, a month aimed at educating people about the importance of their mental health and sharing resources on how to best care for ourselves. Easterseals Midwest, one of the largest disability service providers in the Midwest, is emphasizing the effect of mental health disparities on people with disabilities.
According to the CDC, people with disabilities report experiencing mental distress almost five times as often as people without disabilities do. Moreover, during the COVID-19 pandemic, isolation, disconnection, disrupted routines, financial strain, and diminished health services have significantly affected the lives and mental well-being of people with disabilities. Easterseals is emphasizing one way to combat that — through meaningful connection.
Connection — an essential aspect of mental well-being — helps ward off stress, depression, anxiety, and other mental health problems.
"Isolation is a leading trigger for compromised mental health, and unfortunately, people with disabilities often face obstacles that leave them feeling disconnected from those around them and their community." Wendy Sullivan, CEO of Easterseals Midwest, said.
"Whether it's not having access to transportation to be part of their community, communication challenges that others don't know how to accommodate, or living arrangements where they don't have the autonomy to control when they come and go, there are many, many ways that people with disabilities end up secluded."
Easterseals is emphasizing several of its services that help support connection for people with disabilities, whether it be in their own home, at school, at work, or in their community.
Through Community Living Services, Easterseals supports people with disabilities to live as independently as possible, from 24/7 support to only a few hours a month depending on each person's individual needs. Community Living Services works to help people with disabilities find a home that works for them, whether that be a home of their own or one shared with roommates or family.
Easterseals partners with companies across the state dedicated to employing people with disabilities. Easterseals staff work with people at their job sites to ensure they have all the tools to succeed.
Easterseals emphasizes community integration for everyone they support. From taking advantage of recreational activities near them — like a trip to the zoo — to encouraging community volunteerism, Easterseals emphasizes the need to be part of the community.
Easterseals also hosts several social groups for all ages of people with disabilities, along with family members and loved ones, to create a community of people with similar interests and experiences. Through these groups, participants are able to practice their social skills, learn new skills, and make friends.
"We all thrive when we have strong relationships with the ones we care about and when we feel connected to our community," Sullivan said. "That's why it is so important for us to foster these connections and relationships for the people we serve. Mental health is just as important as physical health, and I think we could all take some time to ensure that we're taking care of ourselves mentally this May."
To learn more about how Easterseals fosters connections during Mental Health Awareness Month, visit www.easterseals.com/midwest.
—
Join or renew with Girl Scouts
From Girl Scouts of the Missouri Heartland
Looking for a place for your girl to flourish? Somewhere she can make new friends, go on exciting adventures, and make a difference in the world? That place is Girl Scouts. It's all here for her. Whether she is teaming up with others or learning to shine on her own, Girl Scouts has the tools and community support she needs to succeed. Where she can be herself and her confidence can soar. She's ready to go.
Being a Girl Scout will bring your girl joy—in kindergarten and beyond. We make it easy for your girl to connect, try new things, and explore new possibilities.
Extended Year membership is available now. For a limited time, join Girl Scouts for $35 and keep the fun going through September 2023. Jump start her experience this summer when she joins now!
Already have a Girl Scout? Renew her membership today to make sure your Girl Scout continues to shine her brightest.
[ad_2]

Source link